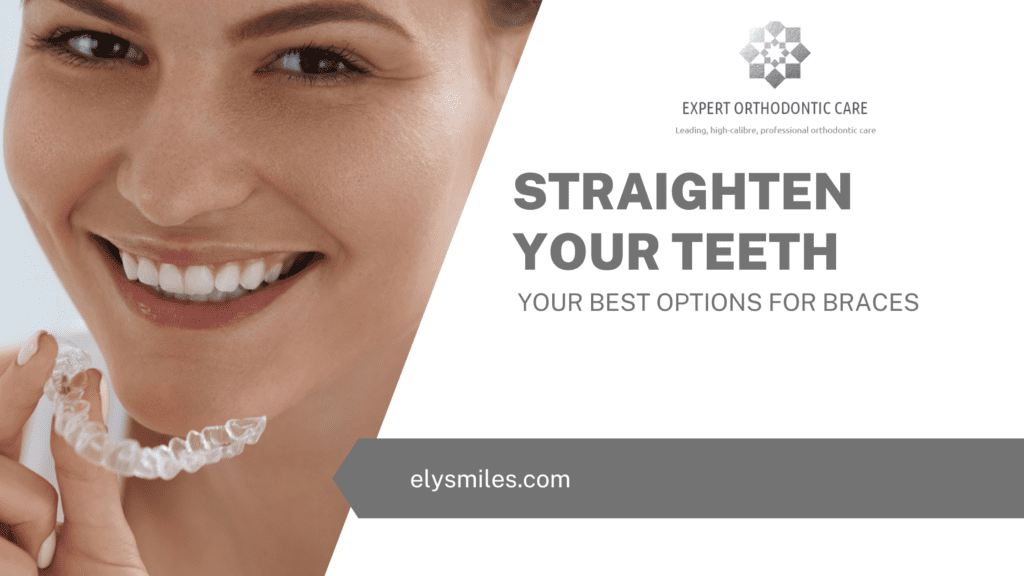 Perfectly aligned and sparkling white teeth are essential for a beautiful smile. Unfortunately, tooth alignment-related problems are increasing globally, and many people, including teenagers and adults, are considering orthodontic treatment for teeth straightening. Thanks to contemporary dentistry, various options are available to straighten crooked and misaligned teeth. If you are also considering getting braces and wondering which option would best suit you, this article is for you. So, continue reading to learn more about different orthodontic treatment options to make an informed decision.
Adult Braces: Types, Treatments, And Options
Today, there has been an increased demand for braces among adults in the UK. This is because more and more adults are realising the importance of straight teeth in having an attractive smile and personality, and are hence willing to invest in orthodontic treatment.
When it comes to adult orthodontics, the two main options are: fixed and removable orthodontic treatment options.
Fixed Appliances – as the name suggests, these braces remain fixed to your teeth and can only be removed by a dentist. These appliances include traditional metal braces, lingual braces, ceramic braces, and six months smiles.
Removable Appliances – for adults who do not wish to get fixed appliances, orthodontists can use removable clear aligners for treatment.
Your orthodontist will suggest a suitable treatment option after a thorough examination and determining your preferences, budgetary constraints, and treatment needs.
What Do You Know Before Getting Braces?
The most important thing that must be understood before orthodontic treatment is that braces require a long-term commitment. For optimal results, you must strictly adhere to your dentist's instructions, visit them regularly for follow-ups, and ensure optimal oral hygiene. Any orthodontic treatment is bound to fail if a patient does not adhere well to their dentist's instructions.
What Are The Teeth Straightening Options For Adults?
With so many orthodontic treatment options available today, it becomes challenging for many patients to choose one that best suits their needs. While many patients these days do not wish to get traditional braces due to their unaesthetic metallic appearance, there are other less conspicuous and more convenient options available. For example, you could get lingual braces, or ceramic braces instead of metal braces. Alternatively, Invisalign aligners are a convenient option that will not affect your smile or facial aesthetics. The decision about your orthodontic treatment should always be made in consultation with your dentist.
What Are The Best Teeth Straightening Options?
Adult orthodontic patients can choose from a variety of orthodontic treatment options. For mild to moderate orthodontic issues, removable clear aligners are an excellent choice, as they won't affect your smile, and you can eat all your favourite foods without restrictions. For more complicated orthodontic issues, fixed braces such as ceramic or lingual braces can be used as a less conspicuous alternative to traditional metal braces.
Do Clear Aligners Really Work To Straighten Teeth?
Clear aligners have become extremely popular as an orthodontic treatment option over the last few years. This is because clear aligners are virtually invisible when worn, allow optimal oral hygiene maintenance, and have no dietary restrictions. When it comes to whether they are effective, clear aligners can be used to treat mild to moderate orthodontic problems. So, if you're thinking of getting clear aligners for your treatment, go ahead!
Will Ceramic Braces Give Me The Same Results As Metal Braces?
Metal braces are a time-tested and reliable option for straightening teeth. In fact, they are considered the "gold standard" for orthodontic treatment. However, many patients refuse treatment with them as they are too conspicuous and affect one's smile and conspicuous. Hence, ceramic braces are offered as a less visible alternative to metal braces. Although ceramic braces work the same way as traditional braces, they may not be as effective, especially in treating complex orthodontic problems. However, ceramic braces are an excellent option for treating mild to moderate orthodontic issues.
Which Type Of Dental Braces Are Most Suitable?
The type of braces most suitable for you depends on your treatment needs. For example, if you have mild tooth crowding or spacing, Invisalign aligners are the most convenient and aesthetically pleasing option. However, if you have a complex orthodontic issue, you may require fixed braces to straighten your teeth. Your dentist will suggest a suitable option after a clinical examination and treatment planning.
Is It Possible To Treat Crooked Teeth With Invisalign?
Mild to moderately crooked teeth can be easily fixed with Invisalign aligners. Even more complex cases can also be treated with aligners. However, your dentist will place extra attachments on your teeth which serve as anchors and perform complex tooth movements.
What Are Lingual Braces, And What Are They Used For?
Lingual braces are tooth braces that have the same shape and design as traditional braces. However, instead of being bonded to the front surfaces of the teeth, they are attached to their inner (lingual) surfaces. As a result, they work similarly to metal braces but are invisible and don't affect one's smile and appearance.
How Effective Are Lingual Braces?
Lingual braces, like other fixed braces, are quite effective in treating different types of orthodontic issues. Besides, they have the advantage of being inconspicuous. So, if you're not willing to get metal braces, you can get your teeth straightened with lingual braces, which are equally effective.
What Are Incognito Braces? How Effective They Are?
Incognito braces are brackets that are bonded to the inner or lingual surfaces of the teeth, making them invisible or incognito. Since incognito braces have the same design and mode of action as traditional braces, they are equally effective and can be used to treat various orthodontic issues without affecting one's smile.
Successful orthodontic treatment and restoration of one's smile and dental function require skill and experience. That is why you should always visit an experienced orthodontist for your treatment. If you reside in Ely or neighbouring areas, you can visit Ely Smiles for all your orthodontic treatment needs. We take pride in having the best dental team in town and state-of-the-art equipment to give our patients a healthy and lasting smile. So, book a free online or physical appointment with us today and begin your journey towards your dream smile.